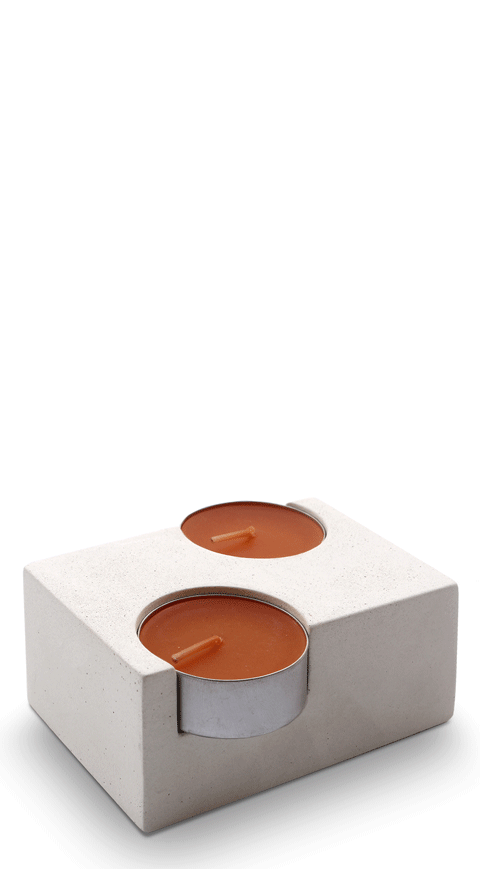 Candle holder for Tea Lights
This modern minimalist concrete tea light candle-holder is made for a standard tea light candles (in a metal container of 1 1/2" diameter). The item is sold with one tea light or two. The round tea light container is set off from the concrete mass and protrudes from the border of the rectangular shape. The clean architectural form of this modern home decor candle holder draws attention to the warm and tactile textural quality of the concrete. 
Materials: Gray Concrete / White Concrete, Epoxy coating, Protective Rubber Bottom. 
HAND MADE. Colors of concrete ma
y
v
a
ry.
This design come is 3 shapes:
SINGE: 
Item dimensions W 3¾" x L 2⅛" x H 1⅜"
 / W 9.5cm x L 5.4cm x H 3.5cm
(Item codes: T1 / T1W)
DOUBLE: 
Item dimensions W 3½" x L 2⅜" x H 1⅝" / 
W 8.9cm x L 6cm x H 4.1cm
(Item codes: T2 / T2W)
LONG: 
Item dimensions W 8⅝" x L 1¼" x H 1⅞" / 
W 21.9cm x L 3.2cm x H 4.8cm
(Item codes: T3 / T3W)